TAXIsystemTM bASE
€45 per car and month
booking, planning, customer register, drivers register, car
register, dispatching, GPS-tracking, map, internal
messaging (call center – car(s) and between cars)
TAXIsystemTM pLUS
€60 per car and month
TAXIsystemTM bASE plus the following additions:
invoicing (of corporate clients), intranet, web booking,
precalculation of distance for the call center, e-mail
TAXIsystemTM sUPREME
Price per car and month depends on local arrangements with card redemption companies TAXIsystemTM pLUS plus the following additions:
integrated credit/bank card payments.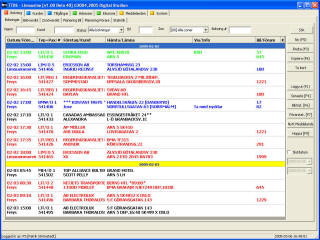 Possibility to test
TAXISYSTEM offers taxi companies to test the service for 1 week. Full functionality can be tested live with up to 4 cars and on 1 PC in the switchboard. The required PocketPCs, GPS-units, GPRS data traffic, digital maps, address data, installation and a training session are included.

test@taxisystem.com